BVA held an Open House on Sunday, May 19 to show off our newly expanded facility. We welcomed many visitors who stopped by (despite the occasional downpour) to tour the inside of an ambulance; learn about the equipment we use and the associated costs; ask questions; pick up handy first aid information; participate in a Teddy Bear Clinic; enjoy refreshments (some gratefully provided by The Landing of Brighton); and meet our staff and emergency first responder partners.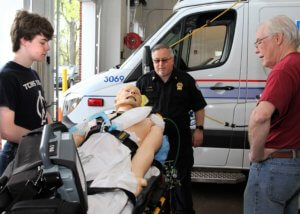 Special thanks to Brighton Fire, Brighton Police, MCSO Mounted Patrol, NYS Police, 911 Center, and Brighton Parks & Recreation for joining us to explain the services they offer and answer questions. Numerous parents took advantage of Operation SAFE Child, a free program offered by the MCSO that provides photo ID cards (ready in minutes!) containing fingerprint and biographical data for children under age 18. The NYS Police offered a simulation of how an unrestrained driver and infant passenger are ejected during a vehicle rollover. See Video.
BVA also received two awards recognizing our contribution to the community: an EMS Proclamation presented by Brighton Town Supervisor Bill Moehle, and a Beautification Award presented by Judy Schwartz, Brighton Neighbors United. See Details.