3059 Ambulance Dedication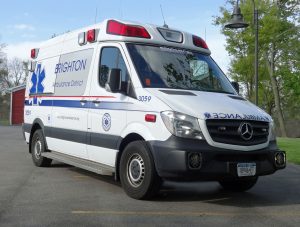 On May 26, 2016, BVA dedicated our new Ambulance 3059 to a former BVA EMT, Zhe "Zack" Zeng, and the other rescuers who died on 9-11. The event was hosted by the JCC, a community partner.
In October 2001, BVA dedicated our Ambulance 3059 to Zack. A special plaque reading, "In memory of Zhe "Zack" Zeng and all the Rescuers who died on September 11, 2001 'So Others May Live'", was mounted in the ambulance. This ambulance remained in active service longer than any other ambulance in BVA history. We feel that, like Zack, it knew its mission was to help save lives. In January 2016, the Board of Directors voted to dedicate our new Ambulance 3059, and all future ambulances with that designation, in memory of Zack and the other rescuers who died on 9-11.
Joining us were representatives from the Town of Brighton, the 911 Center, area fire departments & EMS agencies, and most importantly Zack's mother and family. Special thanks to the Brighton Fire Department and the BFD Honor Guard for their involvement and assistance with this event.
For more info, read the D&C newspaper article, watch the video of the ceremony, and read Zack's Heroic Story.