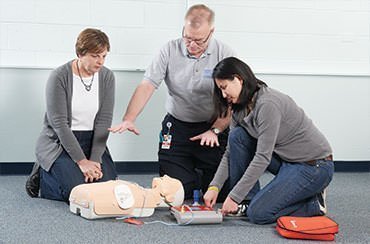 See our Training Class Descriptions.
Sudden cardiac arrest and basic medical emergencies are leading causes of death in the community. As part of our commitment as a healthcare leader in the town of Brighton, we offer American Heart Association-approved classes in CPR, AED, First Aid, and Advanced Life Support, and Stop the Bleed hemorrhage control using a tourniquet.
Classes are held at our training center, or we can come to your school or business.
See our current training class offerings: Training Calendar or Select a Month. If these do not meet your needs or you want to schedule a class at your location, call our Assistant Chief-Training at 271-2718 ext. 4034 or send an email to training.manager@brightonambulance.org
EMT Training
Want to be involved with Emergency Medical Services? See our Join Us information.