Volunteer Application Quick Link  (email to membership@brightonambulance.org)
Volunteer With Us
Do you want to take an active role in caring for the people of the Brighton community? We want the best and brightest at BVA. Our volunteers are the cornerstone of our organization.
BVA offers our volunteers the opportunity to learn a critically important set of skills, and use these skills to make a difference when people call for help.
Becoming an Emergency Medical Technician (EMT) is challenging. There is course work (~100 hours of classroom training) and on-the-job training. Once you've completed the training, you will be expected to make a minimum commitment of 12 hours per month as a member of our organization.
Each member is attracted to volunteer service for reasons that are unique to him/her. Becoming an EMT may be the right challenge for you. The schedule is tough, but the rewards are immeasurable.
To begin the volunteer process, call our Assistant Chief-Training at 271-2718 ext. 4034 or send an email to training.manager@brightonambulance.org.
What is an Emergency Medical Services Professional?
Emergency Medical Service Professionals are trained and certified by NY State to provide prehospital emergency medical care on scene and en route to the hospital.
Basic Life Support (BLS) – EMT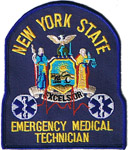 Emergency Medical Technicians (EMTs) provide basic life support to treat a variety of patient symptoms, illnesses and injuries such as breathing difficulties, bleeding, broken bones, falls, etc. They are certified in CPR and the use of an automated external defibrillator (AED) on patients who are in cardiac arrest. EMTs are also trained to administer EpiPens, aspirin, nitroglycerin and albuterol, which can help save a patient's life if they experience an allergic reaction, angina, or severe asthma.
Advanced Life Support (ALS) – Paramedic
Paramedics provide advanced life support to critical patients. They respond to all life-threatening (or potentially life-threatening) emergencies as well as other serious calls. Paramedics perform intubation, initiate IVs, provide medication, and administer & interpret 12-lead echocardiograms to analyze the electrical activity in their patient's heart. These skills often save a life on scene or en route to the hospital.
EMS Training Programs
EMT Student
EMT courses require 103 hours of class work, usually completed in four to five months. When your instructor and our Training Manager are comfortable with your progress, you will be able to train on an ambulance with a BVA Field Training Officer. Plan on training for 6 months at 8 hours per week. The more hours you put in and the more calls you take, the more experienced and comfortable you will become—and the quicker you will finish your on-the-job training and be ready to take charge of patient care on an ambulance. You can sign up to train any day of the week between 6 AM and midnight. During this ride time, you will work with Field Training Officers to apply the knowledge you gained in class to actual emergency calls.
EMT Intern
If you currently hold a New York State EMT card, you will train on an ambulance with a BVA Field Training Officer and mentor to complete the clearing process. EMT Interns need to complete all components of the BVA Intern program prior to clearing as an EMT or Driver trainee. The EMT intern process normally takes 4 to 6 months.
Non-EMS Positions
From time to time we have non-road positions available for those who have a particular skill that may benefit our organization. If you are interested in this type of opportunity, contact our Business Manager at 271-2718 ext. 4040 to see if we have an opportunity that matches your skills.
Interested in Joining Us?
Complete an Application (PDF) and send it to membership@brightonambulance.org