November 19, 2018:
BVA hosted a ribbon cutting ceremony to celebrate our $1.9M, 11,000 ft2 base expansion. The extension connects to our original building, a Brighton historic landmark, and includes additional office/work space and a new 8-bay garage. Helping us celebrate was US Congressman Joe Morelle; NYS Senator Joe Robach; NYS Assemblywoman-elect Jamie Romeo; Monroe County DA Sandra Doorley, Monroe County Clerk Adam Bello; Brighton Town Supervisor Bill Moehle; Brighton Police Chief Mark Henderson; Bob Duffy, Greater Rochester Chamber of Commerce; and representatives from the Brighton Fire Department, Rochester Fire Department, NYS Police, Monroe County Sheriff's Office, OEC, and area EMS agencies.
Michael Pollock, BVA Government Liaison, welcomed the attendees followed by BVA President Dan McCue who highlighted our 32-year history of proudly serving the town of Brighton. BVA VP & Expansion Project Manager Dennis Mietz explained that BVA fully paid for the expansion without the need of a Capital Campaign, or asking the Town for an increase in property taxes, or securing a mortgage. The expansion was funded by BVA dedicated capital funds, public donations, bequests, and (2) $250K NYS Grants secured by Senator Joe Robach and former Assemblyman Joe Morelle.
The following are excerpts from our guest speakers:
Joe Robach: "I was proud to secure a $250,000 grant from New York State for Brighton Volunteer Ambulance. Last year, the men and women of Brighton Volunteer Ambulance responded to over 5,600 emergencies with that number increasing upward. They provided countless other services to the people and families of the Town of Brighton. With this $250,000 grant, Brighton Volunteer Ambulance was able to modernize and construct a state-of-the-art facility to better serve the people of the community. I have and will continue to be a strong supporter of Brighton Volunteer Ambulance."
Joe Morelle: "Today we see a critical investment in BVA's future come to life — it provides much-needed facility upgrades and ensures the men and women of Brighton Volunteer Ambulance are able to perform their jobs at the highest level. I am truly grateful to all of our local ambulance personnel who selflessly and courageously put themselves in harm's way to serve our community, and I am proud to have been able to secure $250,000 in state funding to support BVA in their important work. We are blessed to have such devoted individuals to count on in times of need."
Bill Moehle: "The Town of Brighton is grateful to Senator Joe Robach and Congressman Joe Morelle for their help and support in securing funding for the cost of an important addition to the headquarters of Brighton Volunteer Ambulance. BVA has been an outstanding steward of the landmark property at 1551 Winton Road South that serves as their headquarters. From this location, BVA provides high-quality emergency medical service throughout Brighton. The expansion space enhances BVA's capabilities and supports their increasing call volume."
Bob Duffy: "l know from my time with the Rochester Police Department that having the proper tools is critical to carrying out the mission of first responders. This new base will prove to be an excellent resource for BVA. The Greater Rochester Chamber of Commerce is proud of the incredible contributions BVA makes to the region. Investment in local organizations like BVA is an investment in the success of our community."
For more information, read the media release or watch videos of the event on the BVA Facebook page.
September 2018: Work in the new building is complete to the point that we can start moving in! All emergency vehicles are now housed in the new 8-bay garage, and we've moved into the new Dispatch Office, kitchen, living room, business area & bedrooms. Work on the old garage & historical red brick building is underway.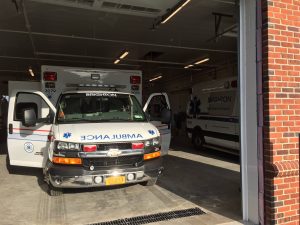 August 2018: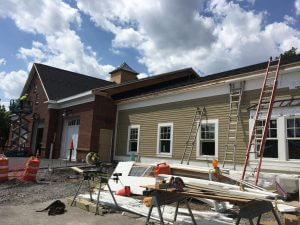 The new garage, office area & kitchen is being finalized, the driveway is paved and curbing is in place. We plan to move our emergency vehicles, furnishings & office equipment into the new structure by Labor Day so renovation of the former garage & house into office space can begin. We hope to have the project completed by mid-November.
July 2018: Brick work is completed on the front & back of the new garage; garage floor is poured; cupola is attached to the roof. The new brick closely matches the original brick still on our main building.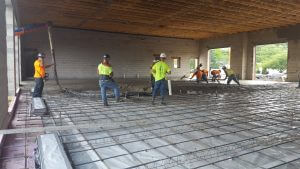 June 2018: Roof trusses are up and the new 8-bay garage is taking shape. The area wrapped in Tyvek (next to the new garage) will house the Dispatch Center, offices, and crew areas offering quick access to the new garage. We are also replacing the roof on our existing red brick structure, an 1850 Brighton Historical Landmark.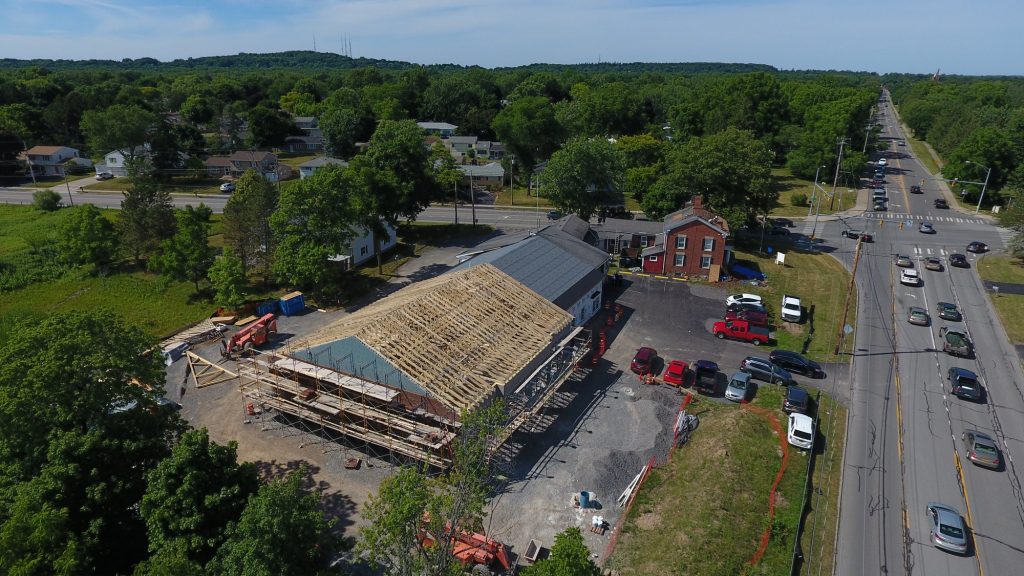 Spring 2018: It may not be pretty at this point, but we were very excited when excavation began in March. When the weather warmed in April, the concrete foundation for the expanded crew quarters was poured and walls started to go up.  Pardon our mess as you drive by. Read about our Base Expansion Groundbreaking Ceremony.