What do you see when you look at this photo? A beautiful home? Emergency first responders see a nightmare!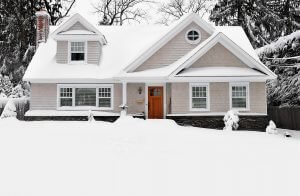 When an emergency happens, time is precious. We need to be able to get to you and your family when you call for help. Please shovel your walkway, steps and porch! If you can't shovel, ask a neighbor or your snow plow contractor to help. Keep a bucket of rock salt, sand, or kitty litter handy to spread over icy driveways and walkways.
And don't forget to clear the snow away from a fire hydrant located on or near your property. Do it TODAY!