Add Medical ID on Your Cell Phone
We respond to numerous calls where our patients are alone and unconscious, incapacitated or unable to communicate with us. They cannot provide important information, such as their name, medical history or emergency contact(s), to emergency first responders.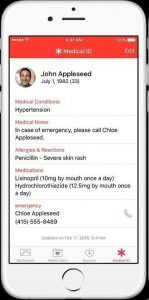 Your cell phone has a Medical ID app that provides pertinent information without the need for a passcode. Follow the easy steps below to allow access to your name, date of birth, emergency contact(s), and medical information such as your blood type, medical history & notes, medications, allergies & reactions, and if you're an organ donor. You can also use the Medical ID app to become an organ donor.
Consider adding Medical ID on your cell phone. Help us help you.
iPhone:
Open Health and tap Medical ID > Edit.
Enter your emergency contact(s) and health information that you want to provide.
Turn on Show When Locked to have your Medical ID accessible from the Lock screen.
Tap Done. Your Medical ID is available!
Android:
Download the app. Go to the app store and download Medical ID (Free) ICE Contacts.
Open the new app and create your profile.
Tap the checkmark in the upper right to finish your profile.
A screen will appear that shows all your profiles, including your Medical ID.
To make changes, tap the three dots in the upper right to open the Settings Menu.
Tap Lock Screen to see the different options for Medical ID. Try them all to see which you like best.
Lock your phone. Your Medical ID is available!